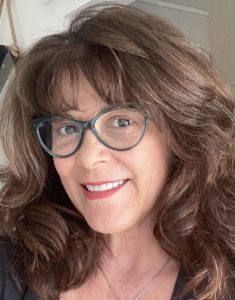 Board Member Spotlight: Cheryl Halloran
Lifetime Philanthropist
Cheryl Halloran has been an active member of Next Door Solutions to Domestic Violence's Board of Directors for three years. She is a major donor and Development Committee member who ensures all our funding needs are met. In 2019, Cheryl and her friend joined Next Door Solutions' Gala Committee together. Cheryl became our chairperson for our Light Up The Night gala in 2020 when the event had to be painstakingly converted to a virtual event. Cheryl has continued to make positive contributions to fundraising in order for Next Door Solutions (NDS) to continue meeting the growing needs of survivors.
Her abilities to motivate, inspire, and cultivate enthusiasm have benefited NDS greatly. Our fundraising events such as our annual, Light Up The Night gala, and Girls Got the Blues benefit concert have always proved to be successful due to Cheryl's time, creativity, and dedication. Next Door Solutions recognizes her admirable and selfless efforts to assist the agency raise funds by any means she can.
In her first year as a board member, she had undergone adversities ensued by the pandemic. Abruptly transitioning from in-person to remote across all departments in the agency was a challenge that everyone had to face. During this time, all of Next Door Solutions' events became remote including our fundraising events. While Next Door Solutions was transitioning, Cheryl worked relentlessly to transition into her role as a board member and the new responsibilities. We commend her for her determination and resiliency. At Next Door Solutions, we are sincerely thankful for all of her contributions and warm generosity in changing the lives of survivors. The funds allow Next Door Solutions to continue to support survivors through our 2ervices.
When asked why she fundraises for NDS? Cheryl stated:  "It's the children. My first tour of NDS impressed me in many ways, pro bono lawyers securing restraining orders and so much more for the survivors, the therapy rooms, the advocates trained and ready to help, but most of all it was the children's craft/therapy room. I was allowed to take it all in. These children had seen too much, they were forever changed, and NDS was there to bring them comfort and healing. For instance, there was a basket of cloth dolls, positive and happy on the outside, but when I lifted the clothes, written by the children on the body of the dolls were words of hurt, fear, shame, and every emotion poured out onto the flesh of these dolls. It was then that my passion for the cause was ignited. I fundraise for these children"