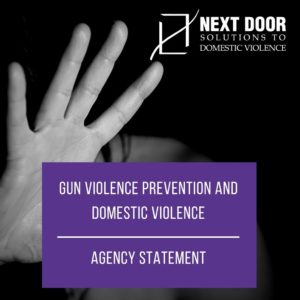 Gun Violence Prevention and Domestic Violence
It is with a heavy heart that we write this. We are heartbroken for those who lost their loved ones, and for communities experiencing the ripple effects of mass shootings and gun violence across the United States, including here in San Jose. It's not easy to grieve or shine light in these times. Still, we are deeply moved by the power of community to come together and hold each other amidst tragedy and loss.
As a nonprofit organization, Next Door Solutions works with survivors who may be at extreme risk of violence, injury or death due to firearms.  Research shows that more than two-thirds of mass shootings are domestic violence incidents or are perpetrated by individuals with a history of domestic violence. A survivor of intimate partner violence is 400% times more likely to be killed by an abuser if the abuser has access to firearms,[1] and half of all intimate partner homicides are perpetrated using a gun.[2]
We build partnerships and empower adult survivors to develop a safety plan for themselves, and if they are parents, to plan for the safety of their children and families, including in situations where the person causing harm has access to a gun. According to research on femicide conducted by the Johns Hopkins School of Nursing,[3] high lethality risk factors include the abusive individual's access to weapons and past suicide attempts (most mass shooters are suicidal[4]) and death threats to harm others.
When children whose mother or stepmother was abused, hit, pushed, grabbed, slapped, kicked, or threatened with a gun or knife, it is considered an adverse childhood experience, and sadly is one of many childhood traumas that may lead to future violence. In a 2019 Los Angeles Times article, "We have studied every mass shooting since 1966. Here's what we've learned about the shooters," Jillian Peterson and James Delaney wrote that, "the vast majority of mass shooters in our study experienced early childhood trauma and exposure to violence at a young age. The nature of their exposure included parental suicide, physical or sexual abuse, neglect, domestic violence, and/or severe bullying."[5]
NDS has as its vision the goal of decreasing the number of individuals and families who will experience abusive relationships in their lifetime, and we know preventing violence requires community action and we can't do it alone. We must acknowledge and be accountable for often ignoring or minimizing violence. We must become more knowledgeable in understanding the root causes of violence, and skillful in ways to intervene. It is within our communities where we can find hope and healing, and where we can prevent violence from happening in the first place. Please partner with us to prevent intimate partner violence and childhood trauma to lessen the likelihood of future mass gun violence.
__________________________________________________________________________
[2] https://efsgv.org/learn/type-of-gun-violence/domestic-violence-and-firearms/
[3] Campbell, JC.  (2004).  Danger Assessment.  Retrieved May 28, 2022, from http://www.dangerassessment.org.
[4] https://www.politico.com/news/magazine/2022/05/27/stopping-mass-shooters-q-a-00035762
[5] https://www.latimes.com/opinion/story/2019-08-04/el-paso-dayton-gilroy-mass-shooters-data